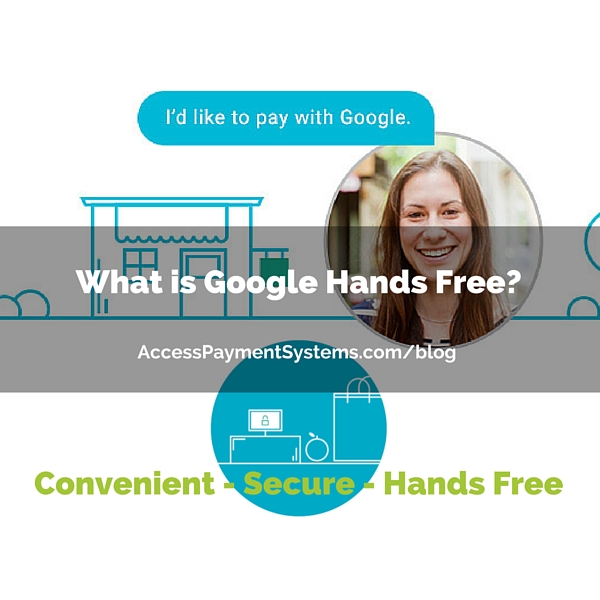 What is Google Hands Free?
For years we have been accustomed to taking out our credit card or checkbook to pay for what we buy at the store. Similarly, for making payments with a mobile wallet like Android Pay or Apple Pay, we need to take out our mobile phones either to just wave it at or tap a Point of Sale (POS) terminal. Electronic payments, however advanced, have not been able to get over this hurdle.
Google's new entry into the electronic payments game is an App called Hands Free and it is promising to change that. We will not need to take our credit cards, checkbooks, or mobile phones out of our pockets, wallets, or handbags anymore.
The Hands Free service started on March 2nd 2016 in South Bay as a limited public pilot (or Beta). The limited list of merchants include McDonald's, Papa John's and some other local businesses.
How does Google Hands Free work?
Step 1. Install Google's Hands Free App, fill in your profile and upload your picture.
Step 2. Walk into a store where Google Hands Free is accepted.
Step 3. Tell the cashier "I'll Pay with Google". The Cashier will ask for your initials and authenticates using your initials and picture. You're Done!
Basically, the Hands Free App uses your phone's location sensors, Bluetooth low energy (beacon system), and WiFi to locate your presence in the store and while at the checkout. The cashier vets your initials and picture and authorizes the charge. The app will only work if you are near the cashier. Your full card details will never be shared with merchants and you will receive an instant notification on your mobile phone. As an added security feature, anytime your Hands Free account is used, you will be notified and suspicious transactions will not be processed without your approval.
Enhanced Visual Identification Feature.
In some stores that have compatible POS systems, a camera is being used to identify the user using visual identification to further speed up and simplify checkout. This is the Visual ID feature of Hands Free. The in-store camera automatically checks and confirms your identity using your saved profile picture in your Hands Free App on your mobile phone. Google has said that images and data used for this process are deleted immediately and cannot be saved or accessed by the store. No data is sent to or saved on Google's servers either.
"Hands Free is really about pushing the experience forward to make it seamless."
– Pali Bhat
– Hands' Free mastermind and Senior Director of Product Management at Google
"At the same time, we also wanted to explore what the future of mobile payments could look like. Imagine if you could rush through a drive-thru without reaching for your wallet, or pick up a hot dog at the ballpark without fumbling to pass coins or your credit card to the cashier. It lets you pay in stores quickly, easily, and completely hands-free,"
– Bhat wrote in a company blog post.
Google Hands Free is Easy for Merchants too.
Google is primarily focussing on larger merchants like fast food giants and Small and Medium Businesses that also want a quick, secure checkout process. Using the Hands Free API, merchants will easily be able to integrate their current POS systems to enable the use of Hands Free.
The only requirement for adding the Hands Free capability to existing POS systems needed is a beacon and camera to activate the Visual ID feature. In an enhanced version of this, cameras in the store could recognise the user and send the info to POS system to make checkout much faster. It allows the POS to anticipate the user's arrival.
Here is a short video about Hands Free by Google:
httpss://youtu.be/Qxet1VdpOQ4
It certainly is very promising to see technology being used to improve payment security and make receiving payments from consumers easier. Makes it easier and faster for consumers too. Definitely on the right track for merchants and consumers alike. The popularity of Hands Free among consumers and merchants will ultimately dictate if it is here to stay or will fade away in time.
Contact Us for more information on Credit Card Processing, or eChecks and ACH Transactions. Or take us up on our FREE Merchant Account Analysis offer. We'll analyze your merchant account rates and let you know how to Save! If you are ready, you may be able to Switch and Save!