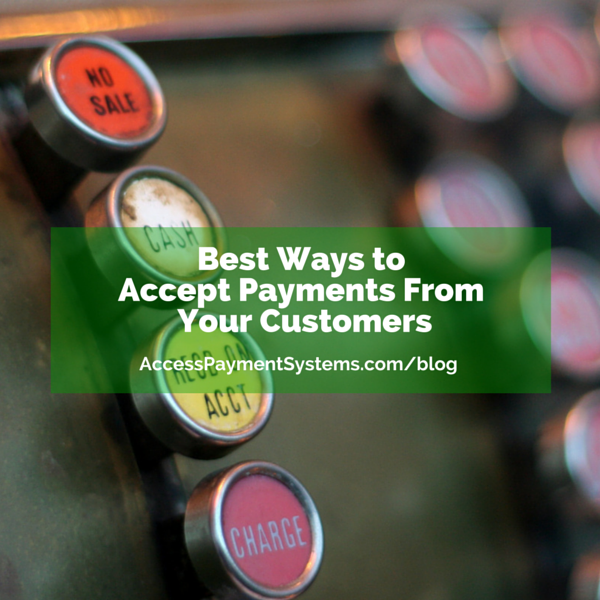 Best Ways to Accept Payments From Your Customers
When it comes to finding a solution for accepting payments from your customers, it is important to consider the type of your business and the way you conduct business operations. For example, are you a retail business, or online business or a little of both.
The transaction processing industry is making efforts to make online payment processing more secure and prevent fraud by improving encryption techniques. A number of secure, affordable payment solutions have come up to cater to the needs of every merchant to accept payments.
These are many ways to Accept Payments from your Customers. For example:
Credit Cards
Debit Cards
Paper Checks
Electronic Checks (eChecks vis ACH)
Direct Debit from bank accounts (ACH)
For Retail Businesses
There are multiple non-cash payment options available, including credit and charge cards.
Credit cards are a popular form of payment option that offer a secure, convenient way for payment processing. The use of credit cards for payment processing can be made more secure with identification checks and additional security features on each card.
Debit cards are another safe and secure way to receive payments from customers that can help boost sales. Such transactions are more secure, as they require each customer's personal identification number to eliminate chances of fraud. Moreover, it is not possible to make debit card purchases unless there are sufficient funds in the cardholder's account. This is a form of assurance for the merchant that they will receive payment from customers on authorized transactions.
Checks are another payment processing option and check conversion services make it easy for merchants to accept checks from customers. Check conversion is a method to transform checks into electronic transactions. Conversion of paper checks to eChecks ensures secure processing in real time. Additionally, eChecks are verified at no cost to you.
Merchants using check guarantee programs for eCheck services are eligible to receive payment from approved transactions. Besides, another advantage of check conversion is that funds processed from authorized transactions are automatically deposited into the merchant account.
Restaurants can benefit from debit cards, credit cards, and check conversions, as these transactions reduce the use of cash at the counter, making transactions more secure. Not only this, secure transactions help boost traffic and cultivate impulse purchases.
Related: Merchants Can Reduce Payment Processing Costs by Using eChecks (ACH).
For Online Merchants
Online merchants can encourage payment processing through electronic transfers and money orders via the Internet. Money orders offer a viable payment alternative to credit cards, especially if you sell products on an eCommerce platform.
Most merchants prefer credit cards for payment processing, as they are one of the most secure ways to receive payments from customers. All online solutions use industry strength security for encryption of confidential information in order to make sure that card and customer data are transmitted safely and securely.
Address Verification Service (AVS) is another fraud-prevention tool that adds an additional layer of security for online credit card payments. Numerical information in the customer's address service is compared with records available with card-issuing banks. The service helps determine whether the numbers match.
Microsoft's Card Validation Code 2 (CVC2) and Visa's card verification value (CVV2) verification services use three-digit codes to determine the legitimacy of the customer's card.
Related: Ins & Outs of Credit Card Processing Rules and Regulations
For Other Businesses
For other businesses using telephone or mail orders, credit cards are the safest mode of payment. Besides, you can secure transactions with AVS and CVC2 and CVV2 systems and protect your business against fraud.
Credit card and debit cards can be processed almost anywhere, which makes them a viable payment processing alternative for mobile merchants.
Offering your customers safe, secure non-cash payment options can help you get an edge over the competition while keeping customers happy.
Contact Us for more information on Credit Card Processing, or eChecks and ACH Transactions. Or take us up on our FREE Merchant Account Analysis offer. We'll analyze your merchant account rates and let you know how to Save! If you are ready, you may be able to Switch and Save!