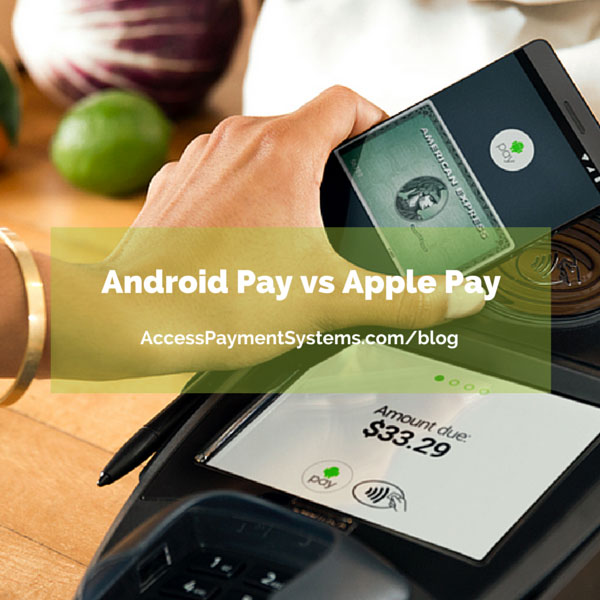 Recently, Google launched its new payments system called Android Pay on mobile to compete with Apple Pay. The new system, which is more like a re-branded Google Wallet, resembles Apple Pay in its working and sobriquet. Android Pay and Apple Pay are both basically a way to pay using your smartphone without using your plastic credit card.
Android Pay VS Apple Pay
You can use Android Pay to make payment for purchases made in brick-and-mortar stores as well as in eCommerce stores and Mobile Apps, similar to Apple Pay. Best Buy, McDonald's and Whole Foods are some of the stores starting to accept Android Pay. It you like using apps like OpenTable, Uber, and Chipotle, you can use Android Pay for them also.
Apple Pay and Android Pay use Near-Field Communications (NFC) technology. The user simply places their smartphone over the pay terminal and authorizes the payment without needing to swipe their plastic credit card.
How Secure Are They?
While Android Pay enables users to simply unlock your mobile phone and tap to make a payment, Apple Pay adds an additional secure layer, requiring users to scan their fingerprint before clicking on the pay now tab. However, for Android Pay, it really depends on your smartphone manufacturer. Some smartphones do have fingerprint scanning and even biometric scanning hardware to enhance security. So, you are able to choose what level of security you are comfortable(or need) with as compared to iPhones. Apple vs Android security is an ongoing debate, arguments between the Best VPN for Android and the best for Apple are still as widely researched as ever – but what really are the differences in payment services?
When it comes to comparing Android Pay vs. Apple Pay, they are highly secure systems that use a safe and protected process for the generation of random numerical codes per transaction. This ensures that you do not need to share your credit card number with the merchant. Your credit card details are always kept in your Android Pay or Apple Pay account and never shared with any merchant.
The use of a Secure Element chip in Apple Pay makes it a little more secure. However, Android Pay is still a better alternative to regular magnetic credit cards. While Apple Pay is available only to those with iPhone 6 and iPhone 6 Plus, Android Pay, on the other hand, will be accessible to "seven out of 10" Android Smartphone owners and supported by all devices operating on Android KitKat 4.4 and equipped with NFC.
What Else?
Google Wallet has been transformed to a peer-to-peer payment system that allows you to make payment directly from your debit account. It is not the same product as Android Pay or Apple Pay.
Google is also working on its Hands Free Payment System that promises to allow users to make payment by simply informing the cashier that you would like to pay with Google. This revolutionary system does not need any smartphone, credit card, or smartwatch. Google has not made any announcement about integrating this innovative system into Android Pay yet.
Bottom Line
With the convenience of credit cards, consumers are still not too keen on migrating to this technology. This means more innovation and effort is still required on the part of Google, Apple, and other players, to add more incentives for consumers in order to convince them to pay with their smartphones compared to plastic cards.
Contact Us for more info on Electronic Payments or take us up on our FREE Merchant Account Analysis. We'll analyze your merchant account rates and let you know how to Save! If you are ready, you may be able to Switch and Save!