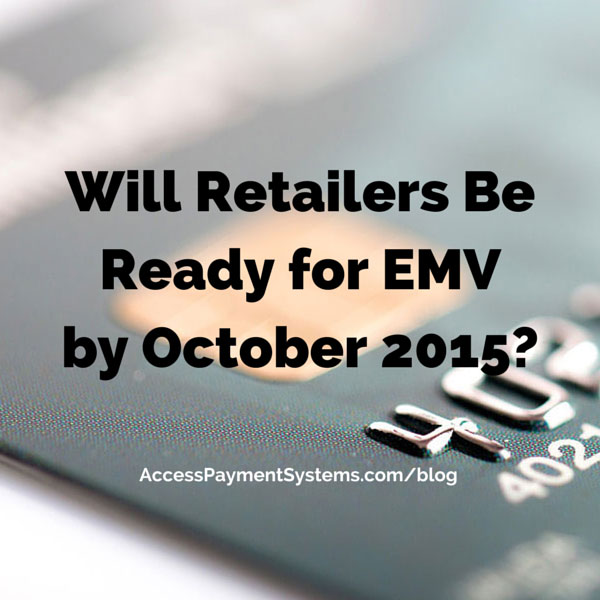 Retailers Must Be Ready for EMV by October 2015 or Risk a Liability Shift!
The Payment Networks' Liability Shift linked to EMV (EuroPay, MasterCard, Visa) is expected to come into effect in October 2015 in the United States. A great step for credit card issuers, credit unions, banks, and retailers, the EMV cards have become the choice of millions of U.S.-based customers.
Unfortunately, only a few big retailers like Walmart and Costco, have the terminals in place to facilitate payment through these cards. Smaller merchants are unhappy about the cost of an EMV upgrade and are not ready for EMV just yet and will most likely miss the deadline. They have requested major card networks to postpone the October 2015 deadline for the liability shift.
Further, most small banks are struggling with the complexity and cost to meet the deadline to finish issuing their new EMV cards. The production of chip cards costs about $1, which is five times that of a regular mag stipe card, which raises the overall cost of this upgrade for smaller banks.
However, the benefits of EMV cards, such as greater security, outweigh the cost. The chip cards are harder to breach and are expected to offer cost savings for both banks and merchants compared to mag stripe cards, which are prone to such tactics as fraudulent card creation and use. Estimates reveal that the annual cost of card fraud is $8.6 billion per year in the US alone, and that the figure is expected to shoot to $10 billion by end 2015, especially if significant steps are not taken toward chip card adoption.
Visa, which is strongly supporting the move to EMV, states that EMV is being widely adopted globally, with almost 62% of transactions conducted globally involving chip cards.
What does this "Liability Shift" really mean?
Small retailers are primarily concerned about the accompanying liability shift. Merchants and issuers, such as credit unions, banks, or financial institutions that issue debit and credit cards, that aren't yet ready for the EMV shift yet, but choose to accept transactions using the new chip cards beyond the deadline, will have to assume liability for any fraudulent or counterfeit transactions. In short, they will assume greater liability if they don't get fully compliant by the October 2015 deadline.
The word liability is often associated with severe ramifications and thus they are afraid to take risks. For those in favor of implementing compliance at a later stage, the best strategy might be to accept the liability shift risk. For all others, it is essential to begin planning as soon as possible to implement EMV before the deadline.
Advantages of EMV Adoption
A number of ATM manufacturers have made the switch to EMV-Compliant technology already and this has resulted in a significant reduction in costs.
Though chip cards are more expensive to produce in the initial stages, they do have a longer shelf life compared to magnetic stripe cards. Not only that, these are capable of 'flash-updating,' which reduces their costs over a period time.
Merchants who make the shift to the new EMV cards get an incentive package from VISA, which encourages many others to be ready for EMV and get relief from PCI Audits.
MasterCard's main incentive will reduce a merchant's liability costs(card-reissuance and fraud costs) by 50% in cases of data breaches if the merchant processes at least 75% of its transactions on EMV devices. To better that, it will extend 100% relief of those costs if the merchant is processing at least 95% of its transactions on the EMV devices.
Here is a simple table from SmartCard Alliance listing EMV Deployment Milestones and Relief Offers.
Please Contact Us if you need any information about Electronic Payment Processing or EMV Adoption Starategies.