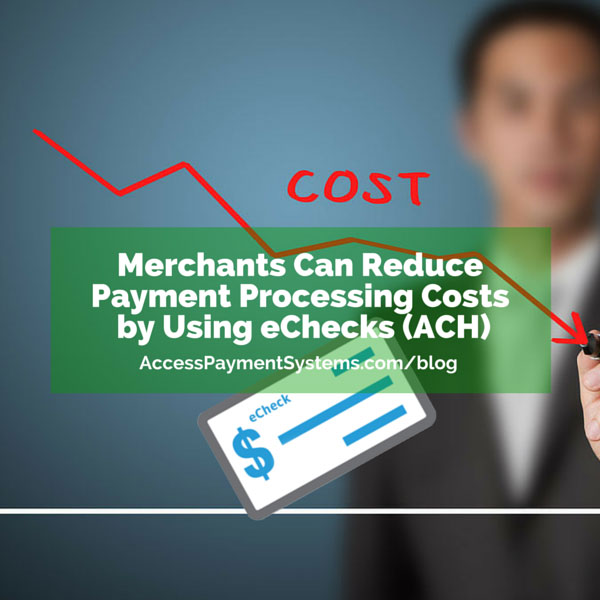 Merchants Can Reduce Payment Processing Costs by Using eChecks (ACH) Instead of Debit Cards.
There has been a significant change in the way we used to make payments, with the introduction of new ways to pay bills, from paper checks to ACH and eChecks to credit cards and debit cards. The merchants who switched from debit or credit card billing to ACH and eCheck transactions for their recurring billing were successfully able to reduce payment processing costs significantly.
Debit Cards
With a debit card, you can access funds in your bank account to pay for any product or service that you need or want. You can use this bank issued debit card just as you would use a credit card, with the only difference being that unlike a credit card, funds are instantly deducted from your bank account when you make a purchase.
eCheck Debit Transactions
eCheck debit is the process of deducting a payment directly from the account of a customer through electronic funds transfer without the need of a debit card or a paper check. It accelerates the process of making payments while eliminating the need to write paper checks and without the need for a debit card to be presented.
This payment method is best used for making recurring payments or regular transactions and to reduce payment processing costs. For such payment processing, the customer's written permission for fund transfer is required only once. This eliminates the need for customers to write and mail paper checks every month. The payment method works well with an Online Payment Gateway, allowing customers to purchase products or make bill payments directly from a savings or checking account, without having to use credit or debit card.
Differences Between Debit Card and eCheck Transactions
To a customer, debit card and eCheck transactions are the same at the core, with both authorizing a transfer of money to the merchant's account from the cardholder's bank account. Many merchants see ACH transactions as a way to significantly reduce payment processing costs.
In the case of a merchant, they are two different methods of payment processing, as each involves processing of transactions through different networks and there is a significant difference in the processing charges.
A merchant must have a credit card merchant account to carry out successful debit card transactions. In the case of debit card, the same network is used to process transactions as credit card transactions. The funds are deposited into the merchant account a few days later and sometimes after deducting commissions and processing charges.
The Automated Clearing House (ACH) network is used in the case of eCheck transactions to move funds from one bank account to another. This means a regular business checking account can also be used for eCheck transactions after signing a contract with an authorized ACH provider. A flat fee, often as low as 35 cents per transaction, is applicable on each eCheck transaction, and it does not depend on the transaction amount.
However, there are some companies(processors) that charge a processing fee calculated based on the amount of an eCheck transaction. It is best to avoid such processors.
eCheck Transactions: Savings & Drawbacks
Of course, there can be significant savings for merchants using ACH payments – the higher the amount, the more the savings for the merchant. However, ACH is better suited for payments under $1,000. When they are higher amounts many merchants will be charged higher rates but they are still much lower than either a credit card or debit card transaction.
The biggest drawback for such merchants is that you do not immediately get a clear picture whether there are adequate funds in the customer's account to process a payment. Merchants get NSF notification within 2 business days regarding the customer account balance.
Some customers are not comfortable giving others direct access to their bank accounts. But they don't realize that is exactly what they are required to do with a debit card transaction also. Some customer education on the safety of eCheck transactions may be needed so that they understand the way ACH transactions are processed.
Cost Comparison between Debit Cards, Credit Cards, and eChecks (ACH)
Example Transaction Amount: $500
Cost to process via Debit Card issued by major bank: $2.90 ($500 x 0.50% + $0.40)
Cost to process via Debit issued by small bank: $7.70 ($500 x 1.50% + $0.20 if Swiped)
Cost to process via Debit Card issued by small bank: $10.85 ($500 x 2.10% + $0.35 if Keyed in)

Cost to process via ACH / eCheck: $0.35 flat
Total Savings per Transaction: From $2.55 up to $10.50
Total Monthly Savings (based on 200 transactions/month) : From $510 up to $2100
Bottom Line
Both debit card and eCheck transactions are equally safe and involve deduction of funds from customer bank accounts. They can both be used to make phone payments, online payments, auto recurring payments, and point-of-purchase payments. However, the difference is that processing charges of card transactions are significantly higher than eCheck (ACH) transactions. This is why, an increasing number of merchants are opting for eCheck transactions to reduce payment processing costs.
Contact Us for more information on eChecks and ACH Transactions. Or take us up on our FREE Merchant Account Analysis offer. We'll analyze your merchant account rates and let you know how to Save! If you are ready, you may be able to Switch and Save!