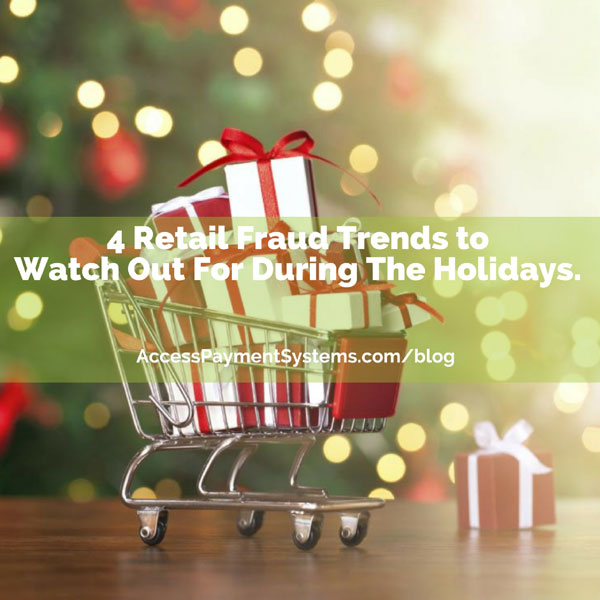 4 Retail Fraud Trends to Watch Out For During The Holidays.
While shopping fun increases during the holidays, there is simultaneous growth in retail fraud. Criminals may try to make zillion fraud attempts wherever they find the slightest loopholes to exploit. Fraudsters often go for the weakest links in the chain when it comes to electronic payments.
Card-not-present fraud
There is a high risk of counterfeit card fraud during the shopping season at the retail point of sale. Criminals may turn to committing card-not-present fraud through telephone or online channels, which garners the largest share of eCommerce fraud in every market segment. Since the October 2015 EMV launch, online retail businesses have reported increase in fraud rates, with Radial registering steep 30% increase in fraud attacks across different client segments. Electronics, jewelry, and entertainment markets have borne the brunt.
Related: Understanding EMV Chip Card Technology.
Cross-border risk
Highest attack rates are reported in some cross-border countries, with Venezuela topping the list, closely followed by Ghana, Nigeria, Angola, and Russia, while the US Virgin Islands report the lowest rate. Radial's statistics provide an insight into the risk and non-risk areas, throwing light on the geographies that post the highest threat and those with the potential for higher order approval rates or conversions. China, Japan, and Korea draw the major chunk of cross-border eCommerce sale, especially in the Home and Cosmetics industry.
Related: Best Ways to Accept Payments From Your Customers.
Spike in fraud post-Christmas
Even fraudsters seem to take a break on X-mas Day. There is a spike in digital gift card fraud rate after December 25. The attacks are 25 times more likely post-Christmas Day compared to other delivery methods. There could be a spike in fraud attacks a day before or after the biggest shopping days of the season.
Related: Make Online Payments Easier for eCommerce Customers.
Increase in Retail Fraud Rates for some regions
Gift card attack rates are higher for some domains that report 200% increase in holiday fraud. Reports show Discover and Outlook bear the brunt of such fraudulent activities during the holiday season.
These retail fraud trends don't cause consumers much concern but are terrible for eCommerce stores. These statistics or trends do send a word of caution for retailers to be aware of during the rush shopping season.
Related: More Payment Options Mean More Sales for eCommerce Stores.
The Holidays are coming. Make sure you "Check Your Credit Card Processing Rates Before The Holidays."
Contact Us for more information on Credit Card Processing, or eChecks and ACH Transactions. Or take us up on our FREE Merchant Account Analysis offer. We'll analyze your merchant account rates and let you know how to Save! If you are ready, you may be able to Switch and Save!