Access Payment Systems provides all types of credit card processing no matter what your business type is. This includes Mail Order, Telephone Order, Internet, Retail, Restaurant, Emerging Markets, Grocery, Petroleum and more. These services are available in a variety of transaction formats such Virtual Terminals, Payment Gateways, Ecommerce with Free Shopping Carts, Point of Sale Equipment, Batch Processing and Automated Recurring Credit Card Payments.
Reputable Credit Card Processing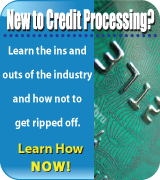 Finding the right credit card processor can sometimes be a frustrating experience. Especially if you already accept credit cards and you discover that the fees proposed to you were different than what showed on your first statement.
Access Payment Systems provides you with what your business needs and won't trick you into some gimmicky pricing scheme. All pricing is laid out in our proposals so when your statement arrives there are no surprises. If you are price shopping make sure you get all the fees disclosed from your processor. This includes your mid and non-qualified surcharge rates and what your check card rate is compared to a regular credit card. If they won't give it to you or say they are not sure what that is then stay away from them. For more education on credit card processing go to the Ins & Outs of CC Processing or if you want a Free Analysis of your Current Credit Card Processing Merchant Account Click Here.
What Kind of Credit Card Processing Do You Need?
So what kind of business are you and how would you like to submit transactions? Access Payment Systems provides a variety of credit card transaction systems to fit your needs. The following list of products can help you in making this decision or at least help you to find what you are looking for. If you are not sure and need help deciding…give us a call at (877) 410-8447 or submit an inquiry on our Contact Us page.
Virtual Terminal – our most popular transaction system. Perfect for telephone order, mail order and some point-of-sale applications. This is an internet based transaction system that handles all payment types including credit card processing,

ach processing

, check verification and

identity verification

. Extensive features allow your business to streamline your receivables process such as automated recurring transactions and future date transactions in addition to single transactions.
Point-of-Sale – we have POS systems, medical payment systems, credit card terminals, check imagers & readers, credit card wedges and printers for all application types. Terminals come in a variety of formats including regular counter top models, wireless and internet based.
Mobile Payments – Process credit cards with your mobile phone using both Android and IPhones. In some cases you can also process Echecks on the mobile phone or even scan paper checks. All transactions deposited directly to your bank account with no fees removed from the daily deposit. Access to a full suite of reporting tools and a virtual terminal to manage transactions.
Ecommerce – Our gateway has a full range of programming options to allow your company to design just about any transaction interface you need. Moreover, we go above and beyond to ensure that the security of your customers comes first. Accordingly, all software is regularly tested in line with pci dss compliance regulations. Put simply, this ensures that credit, debit, and cash card transactions are secure and that cardholder data and personal information are protected against misuse. A full Virtual Terminal comes with our gateway to access reporting and conduct transactions outside of your website. All payment types are available such as credit card processing,

ACH processing

(internet check), check verification and

identity verification

.
Donations Processing – this transaction system is designed for non-profits that helps to simplify the process of accepting donations from their website. This includes both single and recurring payment options for credit card processing and

ACH processing

.
Batch Processing – Depending on your business type you might prefer to batch your transactions rather then using a real-time transactions system. Our batch processing system offers a variety of features to streamline your transaction process and it is available in credit card processing,

ACH processing

and

check verification

.
Purchasing Card Processing – We provide businesses that typically focus on business to business (B to B) or business to government (B to G) transactions by providing Level 1, 2 and 3 Purchasing Card transaction abilities. To be more specific, we also provide Level 3 Line Item Purchasing Card Processing, which is not common in the industry.
Benefits of Using Access Payment Systems
Some of the most competitive rates in the industry with upfront honest pricing
Proposals disclose all potential fees involved along with providing the best systems to fit the needs of your business
Processing platforms for our Virtual Terminal, Software and Ecommerce are certified with First Data, Global, Elavon and TSYS(Vital).
Accounts are on a gross funding settlement to streamline the process of reconciliation. Fees are deducted once a month on the following month.
Monthly statements will be clear and easy to understand. Reporting is also available online to view daily status of deposits and declines.
Depending on the payment system both Level 2 and Level 3 Line Item Purchasing Card Processing is available
Call Access Payment Systems today at (877) 410-8447 or submit an inquiry from our Contact Us page.